We've improved our "Zip Codes by Radius or Modified Polygon" product to allow color changes by clicking on the zip code itself.
Here's an example. Once the zip code boundaries are displayed, you'll notice that the "centroid" point is now marked with a yellow square with a black outline (between the 8 and the 1 of the zip code), as in this picture: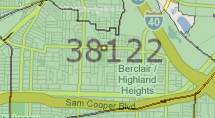 When the centroid is clicked, a box opens in the sidebar with the zip code name and a link as this picture shows:

To change the color of the zip code (three colors available that change with a "toggle" function), click on the link. Hovering over the link will cause the zip code boundary to switch from 50% opacity to 100% opacity, moving the mouse off the link returns the zip code to its previous state.
This version also adds imagery and data from our newest release of the data, 01/2009 from 07/2008.
We hope this improvement is useful to our users.