We've created 34,122 new pages that feature each individual Zip Code in a simplified manner. There are ads on the pages but they can be removed with a click of a button.
Please feel free to embed these maps into your pages.
The format for the URL is as follows:
http://www.zipmaps.net/zips/<5 digit Zip Code>.htm
The pages are a fixed size, width=510, height=400.
Here's an example:
http://www.zipmaps.net/zips/38654.htm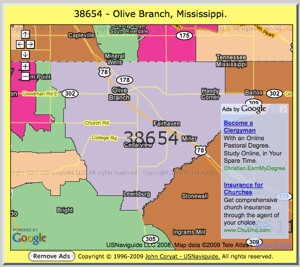 Note the "Remove Ads" button at the bottom left hand corner. This removes the inset map ads which results in a very clean map. The ads are required when the page loads. The user is free to remove them by clicking the button.